Being a manager in a restaurant, or in any hospitality business, is a constant juggling act. From supervising staff to heading business operations, it can be a struggle to keep up. So that 's why January's Hacks Series is all about management tips and tricks. To kick it off, we're sharing our list of the best apps, online tools, and digital solutions to help streamline your management processes.
---
Hospitality Tools
Restaurant Reservations Optimization Tool
Features: 
Optimized restaurant reservations and seating
Number of reservations by party size and seating arrangement by table size
Cost: Free
The tool from the Center for Hospitality Research (CHR) allows restaurant operators and managers to optimize their reservations and seating by inputting key parameters into a Microsoft Excel spreadsheet, then using the Solver add-in to view the outputs. The tool's creator, Gary Thompson, explains that it does so by determining the "best mix of tables in a restaurant, while simultaneously determining which reservations should be accepted from forecasted demand." The inputs include party size, table size and number, average dining time, and average revenue by party size as well as the degree to which to inflate the amount of time guests will be seated at a table, termed the 'Round-Up'.
The full description and instructions document depicts the components of the tool and explains how to use the tool by presenting a practical example of table mix optimization for two nights. The tool is provided by CHR free of charge and can be downloaded here.

Features:
Table management, online reservations, wait-list organization
Maintain an online guestbook to track diner contact info, food preferences, allergies, and more
Available for iPad
Cost: Free trial; $99/month
It should be no surprise that Yelp, an industry leader, has developed a restaurant management tool. SeatMe is an advance management system for your front-of-house needs, allowing you to take online reservations, manage seating, keep track of available tables, and even text waiting patrons when their tables are ready.

Features:
Streamline your online ordering process
Enable ordering on your restaurant website, from you Facebook page, or from within the ChowNow app
Available online or for iOS and Android
Cost: Free Basic Account; Pro Account from $8.99/month
Online ordering goes fancy with ChowNow, a handy app that gives foodies access to your menu via your own website, Facebook page, or the ChowNow mobile app. Allow diners to customize their orders, so your kitchen knows just what to make, and check out online – orders are beamed straight to your restaurant's main tablet, where employees can check and complete the order, and finally notify patrons when their orders will be ready.
Food & Beverage Tools

Features:
Hundreds of questions cover requirements from the ServSafe Food Protection Manager Certification Examination, the American Food Safety Institute (AFSI) Food Manager Certification (FMC) exam, and the National Registry of Food Safety Professionals (NRFSP) Certified Food Safety Professional examination
Choose study mode or test mode
Available online or for iOS, Android, Blackberry, and Palm
Cost: $3.99
The Food Safety Exam Prep app from Upward Mobility offers the most comprehensive food prep information, health requirements, and U.S. safety standards of any mobile app. The test module is perfect for keeping your kitchen current on safety standards, and will help anyone prepare for certification or re-certification.
Features:
Built-in extras include a barcode scanner, multiple currency support, database backup and restore, password protection, and auto-default values
Filter by item, category, company, location, supplier/client, payment and shipment
Available for Android
Cost: $5.99
For simple inventory tracking – and streamlined bookkeeping and tax reporting – Inventory Tracker delivers with an easy-to-use solution. The handy app makes it easy to track your restaurant inventory, sales, revenues and balance sheet – daily, weekly, monthly and yearly. Create reports and transfer data to spreadsheet format.

Features:
Easily track restaurant inventory in real time
Streamline order management, and track orders
Available online or for iPad
Cost: Free trial; Account from $39/month
Wine pairing, not to mention keeping track of an extensive wine cellar, is one of the most challenging and rewarding parts of the restaurant business, especially without a Sommelier. Enter Uncorkd, an iPad-based wine menu that also keeps track of your wine inventory. Customers can get a comprehensive view of your restaurant's wine menu including a bottle's origin, vintage and recommended pairings, while you can easily track inventory.
Staff Tools

Features:
Publicly accessible business pages that display open jobs
Multi-admin business accounts
Re-usable job listings
Applicant tracking system
Messaging hub
Cost: Free for the moment
Sirvo helps businesses in the hospitality industry hire by connecting employers and job seekers on a platform that simplifies the hiring process, from posting jobs to reviewing applications. With Sirvo, you don't have to worry about your job listings getting buried under more recent postings because your business page acts as your own hosted careers site. This makes advertising positions easier on you and finding jobs easier on professionals. Plus, you can invite admins to help manage your business page, search and message candidates, and organize applicants using the applicant tracking system.
Features:
Unlimited HR form sets
Fingertip signature
Photo upload
Automated reminders
Cost: Free demo; Accounts from $75/month
WorkBright provides businesses that need to onboard new employees rapidly with paperless HR. By reducing the time it takes to collect and process new hire forms and automating the tedious workflows and data entry involved in onboarding new employees, WorkBright virtually eliminates the hiring costs associated with dotting the i's and crossing the t's. Plus, WorkBright ensures that your HR files are compliant, organized, and easily-accessible.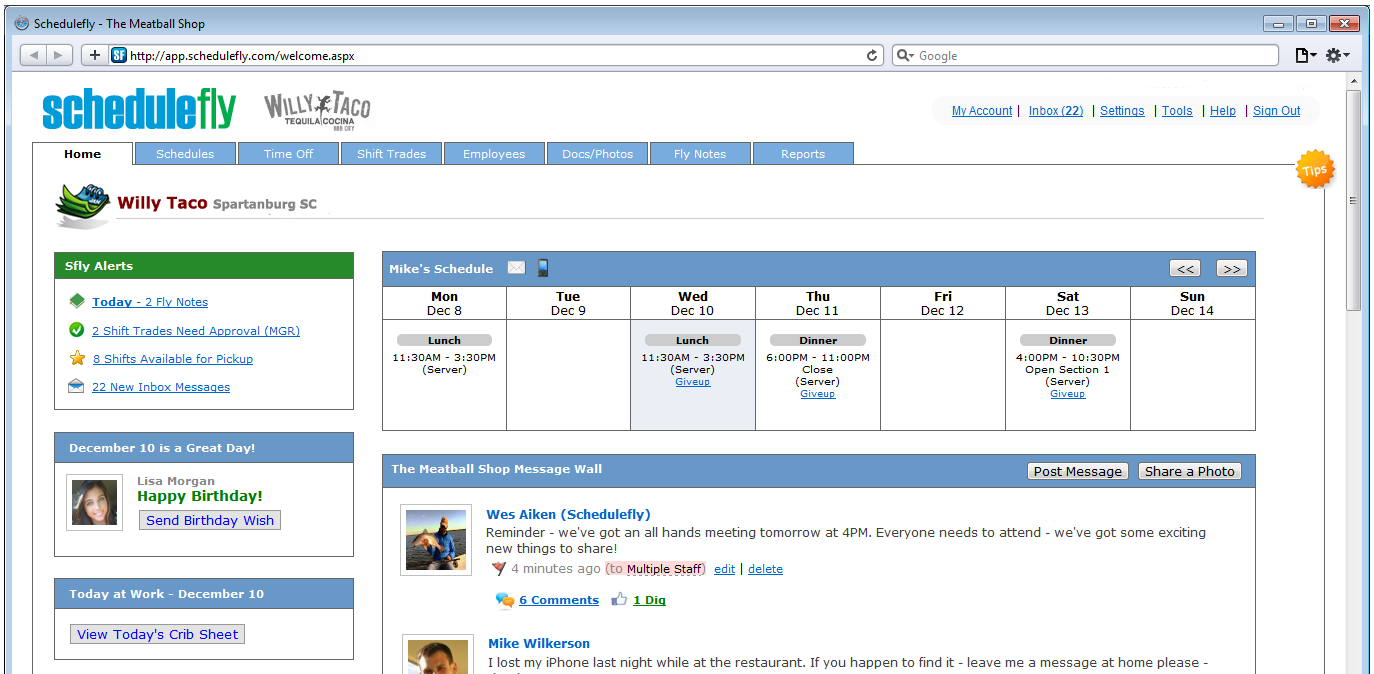 Features:
Digital access to staff schedule, from anywhere at anytime
Forecast labor costs with an as-you-schedule dollar tally
Available online from any computer or mobile device
Cost: Free trial; Accounts from $19/month
The purpose of ScheduleFly is to make restaurant staff scheduling easier by simplifying communications between you and your employees. The app turns any mobile device or computer into your communications central: post time schedules, your employees can request shift changes, and you can all coordinate on time off. Best of all, the app makes it easy to avoid costly overtime and forecast labor costs.
---
Marketing Tools
Features:
Manage your social presence across sites, from one platform
Log on once to schedule posts throughout the day, week or month
Available online or for iOS and Android
Cost: Free Basic Account; Pro Account from $8.99/month
Chances are, your restaurant has gone social and chances are, all that required networking is overwhelming. HootSuite steps in with a simple tool that makes it easy to manage all your social networks, scheduling posts and cross-publishing photos, status updates, and more to multiple social sites. Integrated social profiles include Facebook, Twitter, FourSquare, LinkedIn, Google+ Pages, and others.
Features:
Design templates
Photo editor including cropping, filters, blur
Free icons, stock images, and illustrations
Magic resize to automatically create images for all social media platforms (instagram, twitter, google+, etc.)
Cost: Free Basic Account; Canva for Work $119.40/year, $12.95/month
Canva makes designing graphics for social media, presentations, posters, and more exceptionally easy. Included are tons of different layouts to get your design started that are available in pre-set dimensions (for social media) as well as in custom dimensions. Build your designs with Canva's integrated images, icons and shapes, backgrounds, fonts, and photo filters, many of which are free. Plus, you can upload your own images!
To help businesses produce on-brand marketing materials, Canva recently introduced Canva for Work, which allows teams to collaborate, save brand colors, logos, and fonts, and build their own templates. Also included is automated resizing for various social media images sizes.
Features:
Guest Analytics
Menu Management Analytics
Enterprise Email
SMS Marketing
Promotions Manager
Cost: Contact directly for pricing
Fishbowl is not new and is an industry standard, but we wanted to include it anyway because it should definitely be in you business tool repertoire. With several analytics-based solutions available, Fishbowl focusses on helping restaurants optimize their marketing, strategy, and revenue management. From measuring dining behavior and defining target segments to analyzing and optimizing digital marketing efforts, Fishbowl will help maximize your marketing returns.
Integrating digital solutions and apps in your management practices will not only increase efficiency but also improve your processes and save your business money, so take a few minutes to check out your options! Coming up next are tips on business operations, so be sure to check back in.